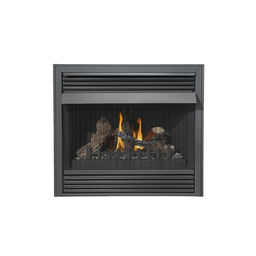 Napoleon Grandville VF36 Gas Fireplace - Vent-Free - LP
Part #NGVF362P
MFG #GVF36-2P
$1,599.00
MSRP

Sign In for Price, Availability and to Purchase

Notice for unauthorized users that this product is only sold to customers with an account and in our authorized sales area
Product Overview
NOTE: This unit has mandatory accessory options, please view Napoleon's price list below for more information to complete your unit.
The Grandville™ VF36 provides cutting-edge, vent free technology with many designer options to suit your style.
Features
50% Flame/Heat Adjustment
100% SAFE GUARD™ Gas Control System
Oxygen Depletion Sensor (ODS)
Product Documents and Videos
Brand : Napoleon
Product Type : Fireplace
Height : 35.5"
Size : 30-39"
Style : Traditional
Venting Type : Vent Free
Fireplace Style : Traditional
Location : Indoor
BTU Output : 30000
Certification : American National Standards
Depth : 13.25"
Fireplace Type : Gas Burning
Framing Dimensions : 35-3/4"H x 37-3/4"W x 13-1/2"D
Fuel Type : Liquid Propane
Glass Type : Ceramic
Ignition Type : Millivolt
Sides : Single Sided
Unit Efficiency : 99.90%
Viewing Area : 11-3/8"H x 24-1/2"W
Warranty : President Limited Lifetime
Width : 37.38"
Support Services
Reach out to Monsma for support ranging from selecting the correct product, special order requirements or any requests you may need.
Call  Mon – Fri: 8AM – 5PM ET
800-968-8714
Email
[email protected]
Ordering With Monsma
SSL secure checkout keeps your information safe.
Best in class customer support for shopping, ordering and beyond.
Know your purchase is safe in transit with Monsma's personal fleet of carriers.