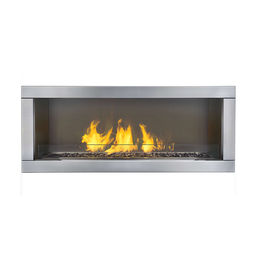 Napoleon Galaxy Outdoor Fireplace - IPI - NG
$4,199.00
MSRP

Sign In for Price, Availability and to Purchase

Notice for unauthorized users that this product is only sold to customers with an account and in our authorized sales area
Product Overview
The Galaxy™ 48 outdoor gas fireplace is truly unique with a sleek design that adds to the excitement of outdoor living.
Features
16 1/2" H x 47 1/2" W x 19 1/2"
"Easy Start" Electronic ignition with remote control and optional wall switch
Safety valve turns gas off if flame goes out for your peace of mind
304 stainless steel burner chassis for maximum outdoor durability and weather resistance
Glass wind deflector for improved operation in windy conditions
LED light strip transitions between colors or can be set to the color of your choice including white, accenting the glass wind deflectors
Topaz CRYSTALINE™ ember bed
Optional river rock, driftwood and glass ember media kits available
Optional brushed stainless steel fireplace cover
Optional four-sided brushed stainless steel trim
Propane conversion kit available
Product Documents and Videos
Brand : Napoleon
Product Type : Fireplace
Height : 24.5"
Color : Stainless Steel
Size : 40-49"
Style : Clean Face
Venting Type : Vent Free
Fireplace Style : Contemporary
Location : Outdoor
BTU Output : 55000
Depth : 24"
Fireplace Type : Gas Burning
Fuel Type : Natural Gas
Glass Type : Ceramic
Ignition Type : IPI
Material : Steel
Sides : Single Sided
Viewing Area : 15"H x 18"W
Width : 50.5"
Support Services
Reach out to Monsma for support ranging from selecting the correct product, special order requirements or any requests you may need.
Call  Mon – Fri: 8AM – 5PM ET
800-968-8714
Email
[email protected]
Ordering With Monsma
SSL secure checkout keeps your information safe.
Best in class customer support for shopping, ordering and beyond.
Know your purchase is safe in transit with Monsma's personal fleet of carriers.